Reducing Torque, Drag & Casing Protection
WWT Non-Rotating Protectors™ (NRP) are the world's most widely used mechanical drill string torque and friction reducer applicable in various well types to optimize energy delivery to bit. WWT has been providing services to operators for over 30 years around the world with solutions to overcome many of the challenging conditions encountered during drilling operations, including torque, drag, casing and riser wear, heat checking, drill pipe wear and buckling. The unique combination of our engineering services, proven WWT Non-Rotating Protectors™ (NRPs) and long-standing experience enables us to provide fully supported solutions that improve performance by minimizing energy loss caused by wellbore friction. Often referred to as "drill pipe rubbers" WWT's NRPs provides the most effective solution on the market.   
WWT NRP Benefits:
WWT offers a comprehensive and complimentary well analysis for every potential application, which includes a NRP placement recommendation to simulate benefits with versus without NRPs for comparison.
WWT NRPs significantly reduce torque and drag, while also mitigating casing wear and heat checking.
Clamp-on design provides greater placement flexibility without increasing stand length or inhibiting derrick racking capacity.
WWT NRPs add negligible weight to the drill string versus heavy sub type protectors.
Compatible with rotating control devices (RCDs) for Managed Pressure Drilling (MPD) applications.
Robust product designed for both cased and open hole applications.
Safe and fast installation can be completed offline or online in just over 1 minute per NRP assembly.
Well Modeling Expertise
As part of WWT's commitment to superior service, we provide a comprehensive and complimentary well analysis to recognize adverse wellbore conditions and offer solutions with a NRP placement recommendation. Client-provided well data is maintained in a confidential manner. WWT's engineers analyze the anticipated downhole side forces to offer a placement recommendation based on the areas of the wellbore where critical contact forces are calculated, and plot predicted torque and drag with versus without NRPs for benefit comparison. Typically, our placement recommendation allows the full objectives of our clients to be achieved by identifying and providing protection for only the most problematic areas in the well. In addition to torque & drag modeling, WWT offers other analytical services, including incremental ECD due to NRPs, and casing wear modeling.
Contact WWT to discuss your application further. Download and complete WWT's well data sheet, which details info required for a complimentary analysis. 
Casing Wear and Heat Checking Mitigation Benefits 
WWT Non-Rotating Protectors™ OD is larger than a tool joint, thereby preventing casing wear and heat checking by isolating contact between the tool joint and casing. Without NRPs deployed, rotating tool joints risk severely wearing the casing, resulting in damage, expensive repairs, tiebacks and downtime. Installing WWT NRPs on each joint of pipe in the high contact areas of the wellbore provides optimal casing protection for every hole section where applied.
Torque Reduction Benefits
WWT Non-Rotating Protectors™ reduce rotational friction between the drill string and casing by creating a standoff between the two surfaces. The unique, patented inner sleeve geometry allows drilling fluid to flow through the annulus into the interior of the sleeve. Rotation of the drill pipe draws fluid across the sleeve flats, creating a hydrodynamic fluid bearing within the stationary non-rotating sleeve, reducing rotating friction up to 90% even at low rpms and in almost any drilling or completion fluid. The result is that string torque is significantly reduced, allowing more energy transfer to the bit, thereby improving drilling performance.
Drag Reduction and Buckling Mitigation Benefits
WWT Super Slider Protectors™ (Model SS and SS3) feature low-friction materials on the OD to reduce sliding friction "drag" between the drill string and casing. The sleeve slides easily along the casing while the drill pipe rotates within the sleeve, isolated from contact with casing. As a result, slack-off weight is increased, while pick-up weight is decreased at surface.
WWT Non-Rotating Protectors are proven to reduce drill string buckling by reducing the effective column length of the drill pipe, while at the same time reducing sliding friction. Finite element analysis and field experience have shown that reducing the unsupported length by placing a WWT NRP mid-span in the middle of each joint can mitigate parasitic effects of buckling such as increased torque, drag, vibration and drill string lockup, resulting in efficient weight transfer to the bit.
Riser, LMRP and Loop Current Protection
WWT Non-Rotating ProtectorsTM are ideal for riser, wellhead and lower marine riser package (LMRP) protection in deepwater operations. WWT NRPs are proven to extend the operating window in adverse ocean currents. Operators have been able to continue drilling operations when they would have been otherwise shut down waiting for currents to subside. The WWT NRP provides adequate standoff between the drill string and the riser, flex joint, wellhead and blowout preventer, thereby preventing wear and damage.
WWT Non-Rotating Protector Advantages
WWT Non-Rotating Protectors™ are a clamp-on tool design and installed directly onto the joint of drill pipe, offering greater placement flexibility. Unlike sub type protectors, there's no additional drill pipe connections or added stand length that inhibits derrick racking capacity. In addition, NRPs add negligible weight to the drill string versus heavy sub type protectors. Deployment is simple, and each NRP can be installed in just over one minute. Once NRPs are installed, there is no need to remove and store NRPs each time you pull out of hole. Simply manipulate the protected joints of drill pipe to maintain continued placement in the critical zones of the well. WWT's qualified Field Application Specialist manages installation, trip inspections, placement depths, and removal of NRPs.
WWT Non-Rotating Protectors™ have been tested and qualified with many rotating control devices (RCDs) for Managed Pressure Drilling (MPD) applications. Likewise, NRPs have been tested and stripped through closed BOP annular. WWT offers customized solutions such as reduced max OD of NRPs or modifications to the collar configuration to ensure compatibility for each RCD. Contact us to discuss more. 
Installation
Each NRP assembly consists of a hinged elastomer or low-friction polymer non-rotating sleeve bonded to an internal metal reinforcement cage. One hinged aluminum "collar" acting as a thrust bearing is installed on each side of the sleeve, inverted with respect to the other. The collars generally consist of 3 to 6 bolts each depending on the model and torqued to specification using a calibrated torque wrench. Each NRP can be installed in just over one minute, watch our installation video for more details.
WWT NRP With Installation Text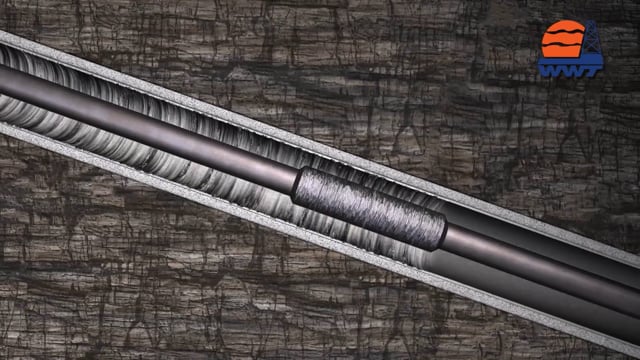 WWT Non-Rotating Protectors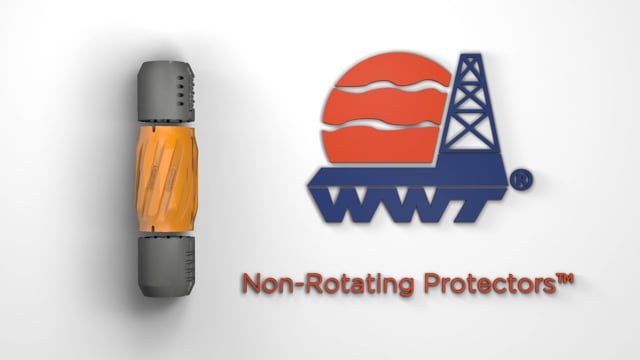 Installation Video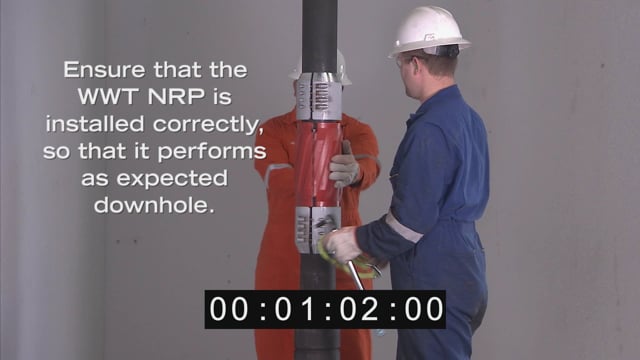 NRP Non-Rotating Protector Video